The Brandenburg Gate has been a symbol of Berlin since it was built in 1791. The gate has been a emblem of Prussian Berlin, the site of Nazi Rallies, a symbol of a divided Berlin, the place of reunification, and, now, a gate into a revitalized eastern Berlin.
The gate was built as just one of fourteen gates to the city. It was designed after the
Propylaea Gate
in Athens by
Carl Gotthard Langhans
. The statue on top is of the Goddess of Peace and her four horse chariot.
After the defeat by the Frenach, Napoleon took statue and placed it in the Louvre.
In 1813 the Goddess became the Goddess of Victory as the Prussians took the statue back and returned it to the top of the gate.
The gate become an representation of Nazi Germany during the Berlin Olympics in 1936 when the gate was draped in Nazi banners.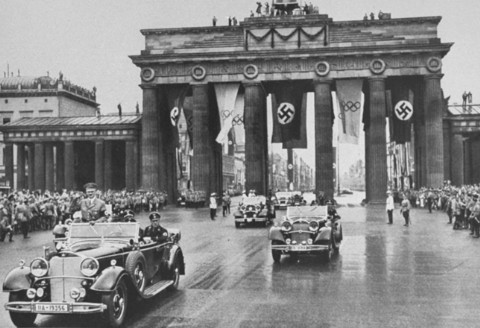 Destroyed by bombing, the gate laid in ruins after WWII.
After the war the east and west together restored the gate. It was used by cars and pedestrians until the Berlin Wall was erected in 1961, when it became part of "no man's land". When JFK gave his "I am a Berliner"
speech
at the gate in 1963 the Soviets hung banners from the gate so he could not see into East Germany. It remained unused until the fall of the Berlin Wall.
In July 1987
speech
at Brandenburg Gate, Ronald Reagan spoke to the people and demanded:
"General Secretary Gorbachev, if you seek peace, if you seek prosperity for the Soviet Union and Eastern Europe, if you seek liberalization: Come here to this gate! Mr. Gorbachev, open this gate! Mr. Gorbachev,
tear down this wall
!"
Two and half years later they did just that. The gate became a symbol of reunification on November 9, 1989 when 100s of Berliners packed the gate and surrounding squares in celebration. The Bandenburg Gate was officially reopened on December 22, 1989 when the West German Chancellor and the East German Prime Minister met under the gate
Once again a US President
spoke
at the gate, when Bill Clinton came to Germany to speak about post-cold war peace and said:
"We stand together where Europe's heart was cut in half and we celebrate unity."
The Brandenburg Gate has become one of the most recognized symbols of Berlin and of Germany - reminding all who walk through her of the struggles and events of the past, present, and future. You can't help but marvel at the struggles of freedom the gate has seen.